Please use our services. We look forward to your comments and requests.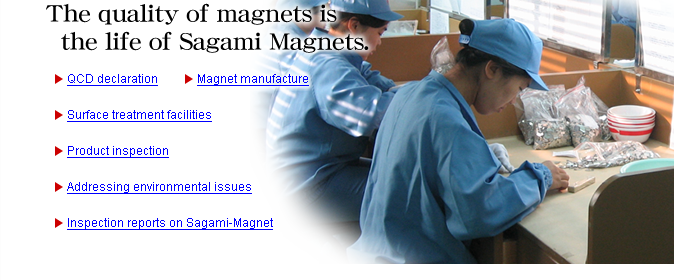 In an attempt to enhance our performance concerning quality (Q), cost (C) and delivery (D), we always think of satisfying our customers.
By taking advantage of our situation as a magnet manufacturer with factories in China, we manufacture products while meeting customer requirements as much as possible. Our goal is to deliver products that meet customer requirements for shape, magnetic characteristics and other factors at the earliest possible time, and at the most reasonable prices possible.



We meet demand not only for mass-produced products but also for the manufacture of a single prototype.
Our neodymium factory in Beijing uses leading-edge equipment for manufacturing magnets and produces products with stable quality, while working constantly to cut costs.



Our neodymium magnet factory in Beijing has its own plating factory in Tianjin as well. The factory is in mainly charge of nickel plating. It also conducts various kinds of processing to increase plating durability. The plating factory is also equipped with composition analyzers for plating solution, as well as film thickness gages and other equipment.
The factory also comes equipped with wastewater treatment facilities to minimize its environmental impact.



The neodymium magnet factory in Beijing inspects not only the magnetic characteristics of magnet materials by using a BH tracer but also conducts dimensional inspection, surface flux inspection, PCT and other inspections by using leading-edge equipment.



We remember to engage in production with maximum consideration given to environmental issues, and aims to obtain certification under ISO 14001. Products shipped by our company are RoHS-compliant, free of lead, hexavalent chromium and other hazardous substances.





To allow our customers to use our high-quality products with peace of mind, Sagami-Magnet comes furnished with inspection reports.
The main items of inspection data in the inspection reports are as follows:
Main items in the inspection report

Equipment name
An outline of the product material, product shape and product dimensions based on customer specifications is reflected in the equipment name. For details, see the page on the designation of equipment names.
[ Example ]
NF-39SH
- Represents the material.
W20X35X12
- Gives an outline of product shape and dimensions.
Drawing number
Indicates the drawing number in the client's specifications.
Lot No.
Represents the manufacturing lot number of the product to be delivered. This number is used for lot control with traceability so that the history of a product?s entire manufacturing process can be traced.
Magnetized or not, marked or not
Before delivering the product to the customer, we may give magnetism to (magnetize) the magnet. To confirm it and clarify the direction of magnetization, this confirmation item results in the product being marked.
Magnetic characteristics

To indicate the basic material performance of the magnet to be delivered, we indicate values for the various magnetic characteristics measured with a B-H meter. A demagnetization curve (B-H) curve is also attached.

- Br (residual flux density)
Indicates the intensity of a magnet?s magnetism.

- Hcb (magnetic coercive force)
The magnetic field intensity at which the sum of a magnet?s reverse magnetism (when placed in a magnetic field) and the magnetic field applied becomes zero.

- Hcj (essential magnetic coercive force)
The magnetic field intensity at which the magnetization intensity of the magnet itself becomes zero.

- (BH) max (maximum energy product)
Indicates the maximum BxH product in the demagnetization curve and represents the maximum magnetic energy possessed by the magnet.

Surface treatment
This refers to a processing operation for rustproofing to be conducted mainly on the surfaces of an Nd-Fe-B product (neodymium magnet). Its standard means nickel plating.
Packing specifications
In addition to our standard packing specifications, a special method of packing may be adopted as agreed upon with the customer. The basic specifications are indicated here.

Product inspection results

Indicates the measurement data mainly for product sampling inspections. Indicates inspection results for dimensions, surface flux density, appearance, neodymium magnet reliability test (PCT acceleration test), and other inspections.

(1) Dimensional inspection
Indicates inspection items, inspection method (measuring equipment), specified standard values, measurements taken, and pass-fail decisions.

(2) Surface flux inspection
Indicates the specified standard values as determined by a Gauss meter, measurements taken, and pass-fail decisions.

(3) Appearance inspection
Indicates pass-fail decisions based on our standard specifications or customer specifications.

(4) Pressure cooker test (PCT) inspection
Indicates pass-fail decisions according to our standard specifications or customer specifications.