Please use our services. We look forward to your comments and requests.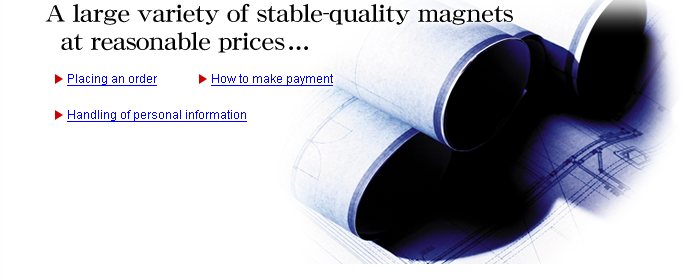 Sagami Chemical Metal Co., Ltd. sells rare earth neodymium, samarium-cobalt magnets, ferrite magnets, Al-Ni-Co magnets, rubber magnets and neodymium bonded magnets, along with magnet-based products. Neodymium magnets manufactured by San Huan Sagami New Technology Co., Ltd. (a joint venture based in Beijing) are well received by markets both in China and other economies through Sagami Chemical Metal and Sagami Metal (in Hong Kong).

By making full use of the network it has cultivated over many years, Sagami Chemical Metal will continue to supply a wide variety of stable-quality magnets at reasonable prices.





When placing an order, please send an order form specifying all six items listed below to us by e-mail or fax.



(1)
Order number
(2)
Product name, magnet type and material (and specification number for mutually established specifications)
(3)
Product dimensions, polarity direction and tolerance (general tolerance if not specified)
(4)
To be magnetized or not
(5)
Special specifications (such as painted labels indicating polarity direction)
(6)
Quantity, unit price and desired delivery date


We aim to deliver products securely and more quickly. We therefore request your cooperation.



* To new customers



- First, please read the "A guide to our magnetic products" page and the page giving necessary information. If you want to read it as printed out on paper, the online brochure is handy.

- For various inquiries, click here. If you wish to receive a quotation, please contact us through this ( quotation request form ).





Bank transfer (payment in advance, with charges borne by the purchaser)


We will ship the product after confirming your transfer of payment.

* If you wish to use a means of payment the others, please consult us to that effect when requesting a quotation.



Sagami Chemical Metal Co., Ltd. considers that properly protecting and correctly handling personal information to be its social obligation. To fulfill that obligation, we observe all relevant laws, work to properly control personal information, and will do its utmost to protect such information.