Please use our services. We look forward to your comments and requests.

















In order to ensure the continuous and stable supply of high-quality and inexpensive permanent magnets to Japanese consumers, Sagami Chemical Metal extends its network, centering on Japan, to Beijing, the capital of China.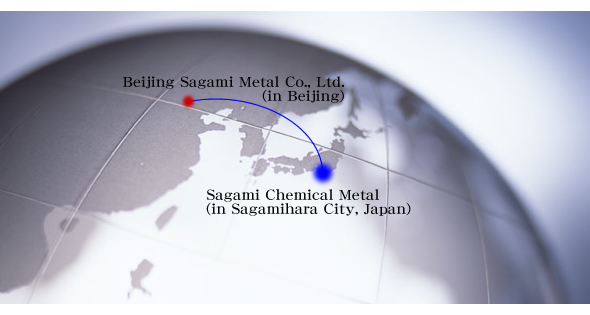 In 1991, we entered China in the field of rare-earth magnets and set up a joint venture with Beijing SanHuan New Materials High-tech Inc. under the Chinese Academy of Sciences,* and established a magnet supply system for high-quality and inexpensive magnets.
*This is the only Japanese magnet manufacturer as a member of the San Huan Group.
Capitalized 100% by Sagami Chemical Metal Co., Ltd. and reorganized into an owned enterprise, Beijing Sagami Metal Co., Ltd.


| | |
| --- | --- |
| [ Head office (in Japan) ] | |



- Company name
Sagami Chemical Metal Co., Ltd.

- Head office location
Hakenohara Industrial Park, 3-12-18, Hashimotodai, Midori-ku, Sagamihara-city, Kanagawa Prefecture 252-0132, Japan
Tel: +42-773-2626 (main line)
Fax: +42-772-0099

| | |
| --- | --- |
| [ Overseas group companies ] | |

- Company name
Beijing Sagami Metal Co., Ltd.

- Location
No.15 Dong Ying Road, Zhao Feng Industry, Zhao Quan Ying, Shun, Shun Yi Dist. Beijing, 101301, China